This site uses cookies. By continuing to use this site, you are agreeing to our use of cookies.

Learn More.
guides
Due to Updates in Firefox, Flash and Unity plugins no longer work in PlayOnLinux.
Some games can still run via
Pipelight
(Uses Wine Staging)
Here is a step-by-step guide on installing Unity via Pipelight:
GamersOnLinux
Since Adobe has decided not to support Linux with flash player and there is still a demand for Flash gaming, there is still a...
Most DosBox games are pretty similar to set up, so I have made this generic DosBox guide with steps to follow for any DosBox games I write guides for. Since a lot of old Dos games are available on gog.com, I also include steps here for downloading and extracting installers from GOG for use with DosBox. With this guide, you don't have to take the time to learn how to use DosBox if you find it too complicated, simply follow this guide.

DosBox should be available for install in the repositories...
The Heroes of Might and Magic series began as a spinoff from the already existing Might and Magic series. Drawing inspiration from the same game world, the Heroes series would eventually tell more of the history than the original rpg series. For many, the HoMM series is the standard that all other turn based strategy games must measure up to.



This guide will explain how to play the first two games in the series, using the digital editions available on gog.com, simply follow these steps and...
Warcraft III is obvious the third installment of Blizzards original Real-Time Strategy genre. Boasting new 3D graphics, more options, single-player campaign story, and much more...

The installation is simple, it runs great and it doesn't require Battle.net to install. Sometimes having an old DVD makes things quick and easy.

Follow my step-by-step guide on installing, configuring and optimizing Warcraft III in Linux with PlayOnLinux.

Note: This guide applies to the Retail version of...
Starcraft 2 is the sequel to the acclaimed rts Starcraft. This game features the same three factions of the original game. The graphics have been greatly improved, and there are sufficient changes to the factions so it does not feel like the original only with better graphics. The single player campaigns are very well done with an interesting story and great interactivity between missions.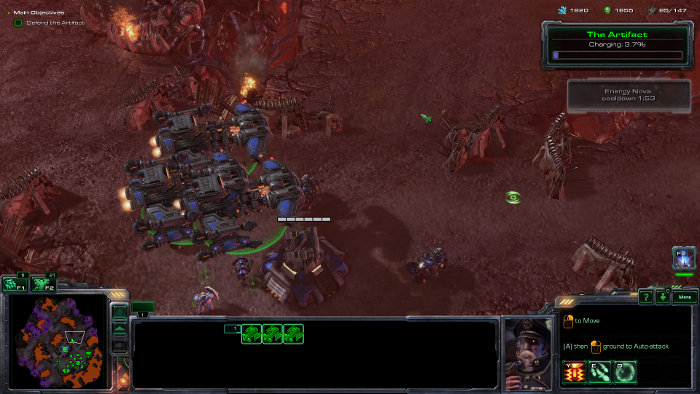 This guide will explain how to install Starcraft 2 using the downloadable...
Realms of the Ancient War almost came out of nowhere...
Not widely advertised but a small gem among all the RPG out there. Featuring your standard hack-n-slash, leveling up, armor upgrades and 3 classes to select from... but the amazing feature is the graphics.

Follow my step-by-step guide on installing, configuring and optimizing RAW in Linux with PlayOnLinux.

Note: This guide applies to the Steam version of RAW. Other versions may require additional steps.

Tips & Specs

To...
Starcraft is a legendary game within the rts genre. When it was originally released it was really quite unique compared to other rts games. It had 3 very different playable factions, with completely different units and different tactics, while still remaining balanced. This guide will explain how to install and play Starcraft from the digital edition available on battle.net for purchase.



You will of course need the Windows version of the Starcraft installer, which you can download from the...
At first look, Magicka appears to be another run-of-the-mill RPG, but after further investigation you will find an original action game with interesting and demanding strategies.

Your Wizard will have the ability to control 8 elements with the tap of a button. As you tab the power charges up and you can wield amazing destruction on your enemies, but thats not the end of it... You can combine any of the 8 elements to construct your own combination.
Want to shoot boulders of fire?
How about a...